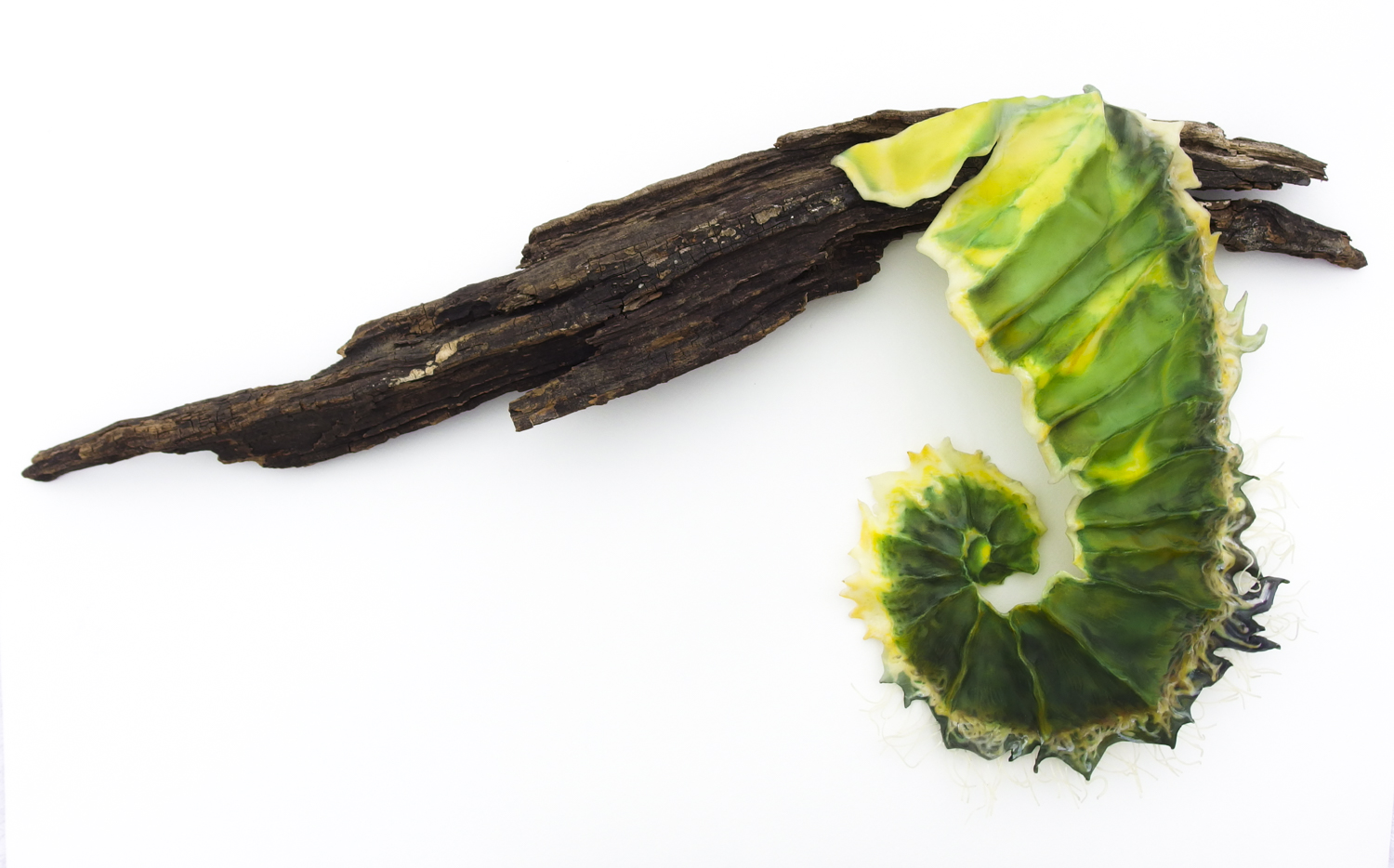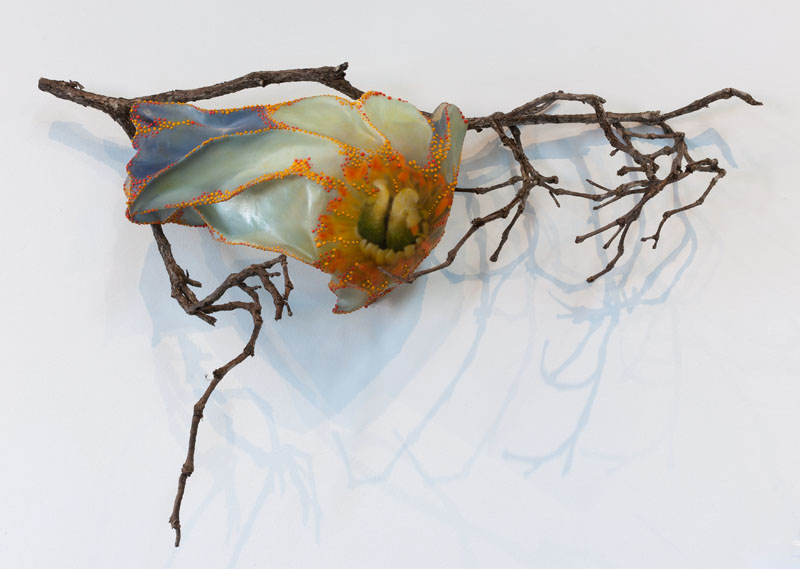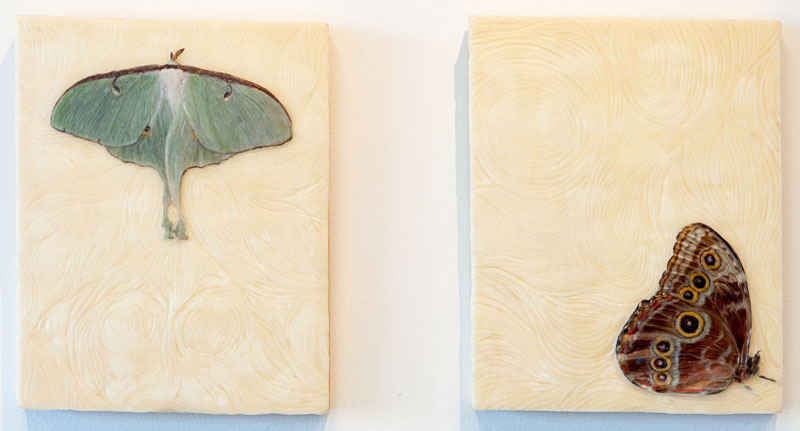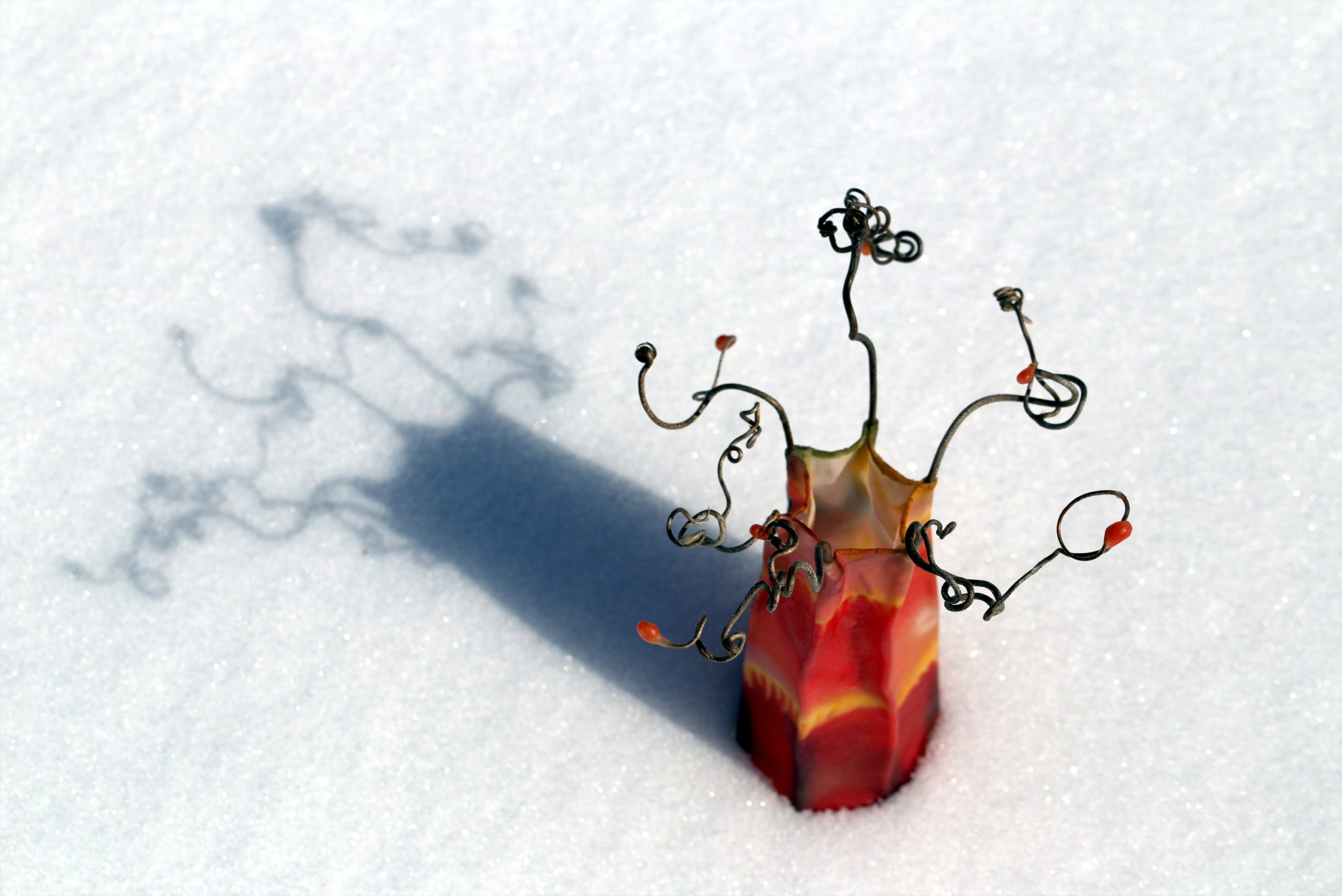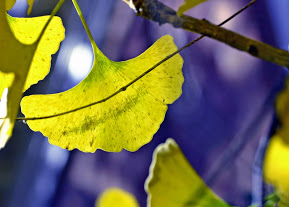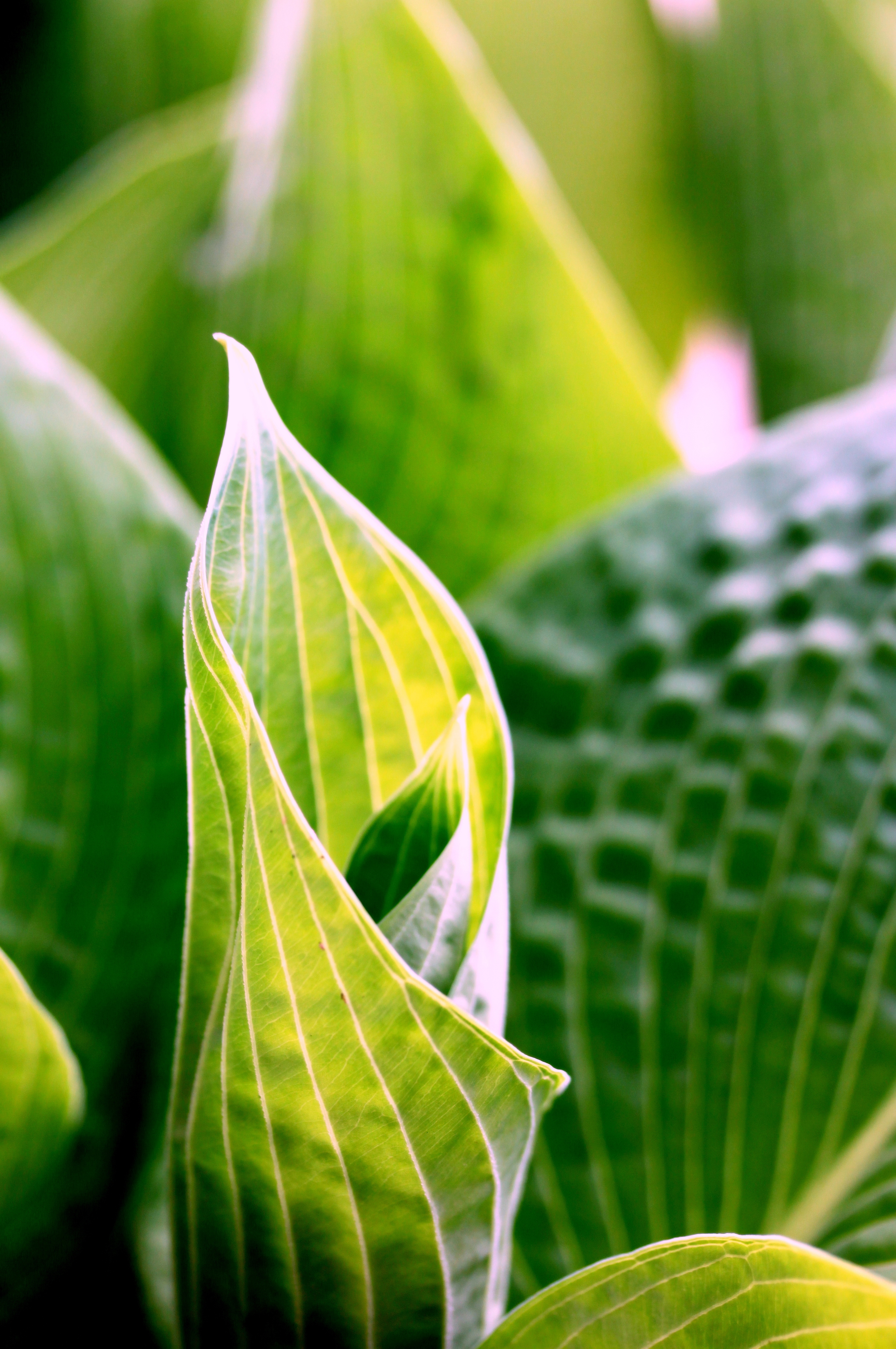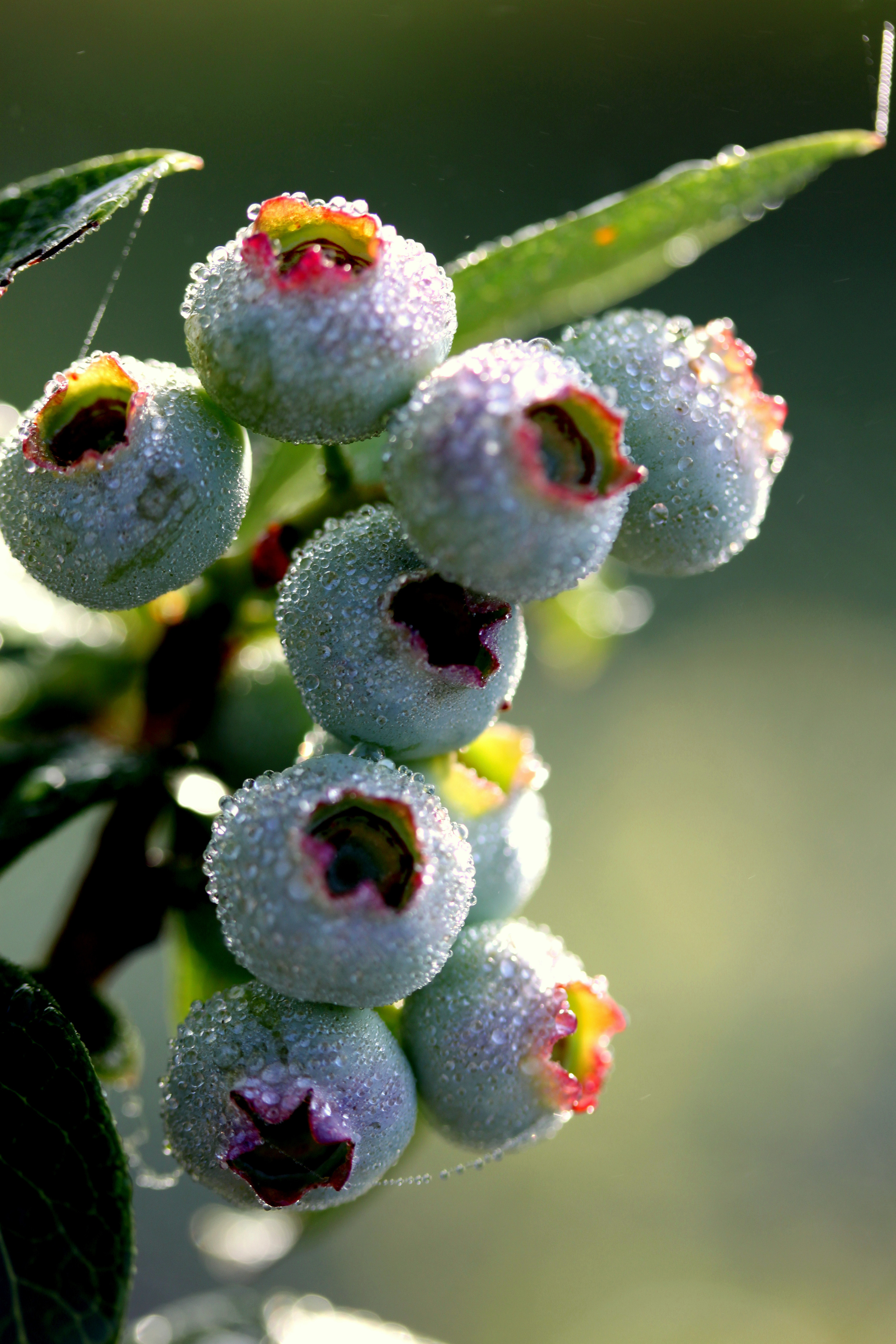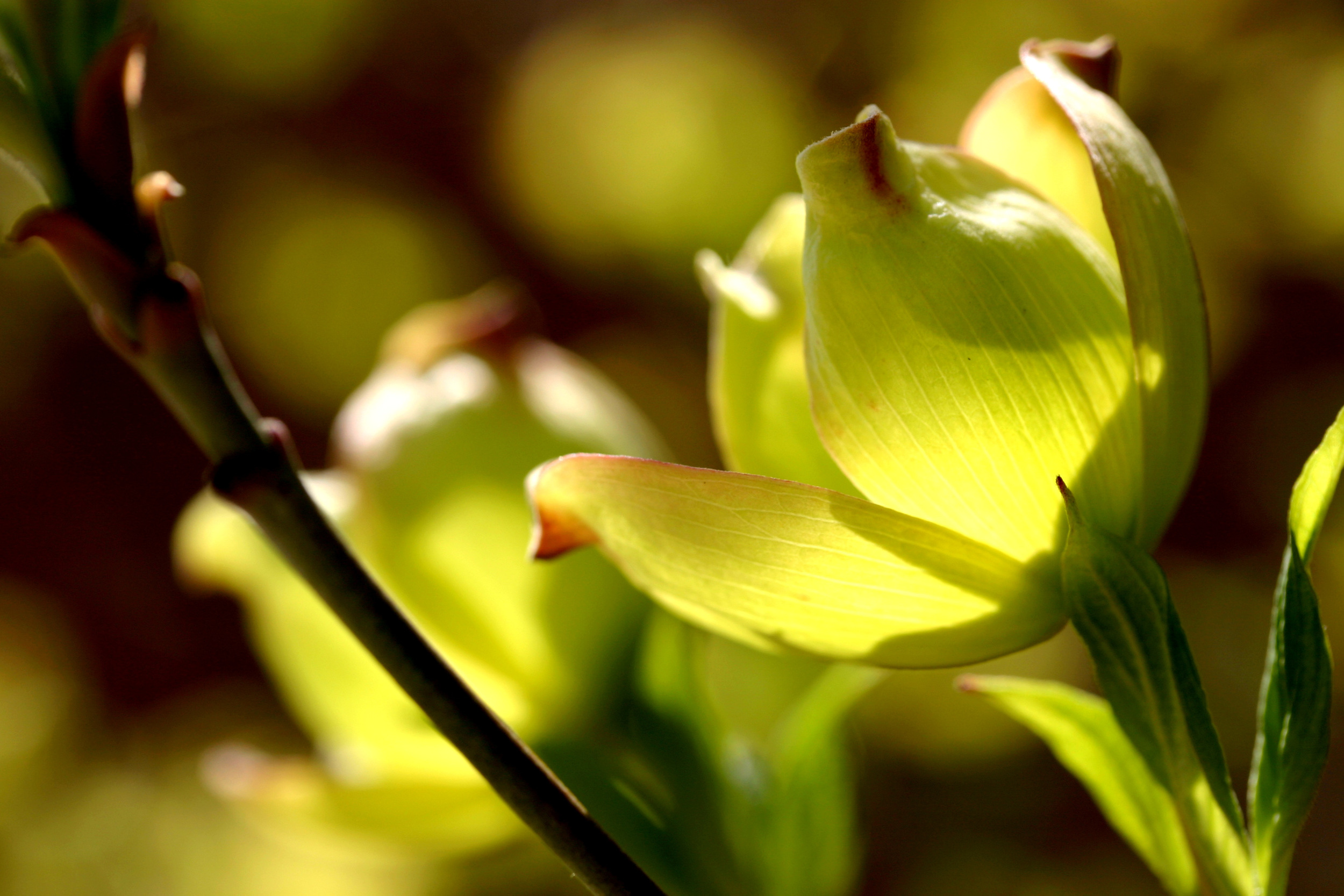 "Come Out, Come Out, Wherever You Are" (25 x 13.5 x 7 in)
I have always been gently drawn to the inner layers that exist in others and myself, something which has only deepened as my life continues to build with experience and relationship. Raising our boys makes me aware daily of the importance of not only encouraging them to fully explore who they are, but to convey the message that all is welcome and celebrated. May we encourage this with one another and ourselves in ways that uplift, honor, and remain receptive and curious about what may emerge so that we may be ready to nurture.
"What Does It Mean to Be Whole?" 18 x 17.25 x 4.5 in)
Having been diagnosed with MS the morning after the eclipse, I have reflected much on what wholeness means. Despite being changed by what we experience, whether it be trauma, illness, or loss on the path of life, we all are essentially complete inside,...
"Watchful One" (8 x 12 x 8 in)
This guardian bird was created with a wide variety of materials, including a raccoon vertebrae, snail shell, bicycle inner tubes, and wax. I found the slow and patient work of applying each feather with each carpet tack soothing, and a bit like sewing… one thoughtful stitch at a time. I reflected on how the making of art is deliberate and slow much of the time, and like life, comes together into a coherent whole. The creature that came to be seems to embody that same deliberate energy, content to be in the present moment.
"At the Still Point" (16 x 20 x 2.5 in, framed cradled panel)

I found this sea urchin on a specimen shelf in a university biology building, long since removed from the ocean, its final mission to serve as an object of study for science students. I was struck by the beauty and metaphor that leapt out of the reflection in the glass on which it rested. I pondered the calcified remains of this dear creature and how the opening in this vessel seemed to invite me in, beckoning further exploration. I pondered about outer bodies, the ways in which we age, and how we often become more introspective as the years go by… and if we are lucky enough to have made it to the another year, how we both reflect on what has transpired in our lives and wonder how we will continue to evolve. This simple image holds powerful symbolism, reminding me to grow inwardly with as much intentionality as I tend to my physical body, and to balance energies, within and without, as part of daily mindfulness.
With gratitude for all of the paths that have taken me here, I am reminded to honor new unfolding as well as losses that have been integral in my making, and to share the outgrowth in a way that will be passed on to my children and those whom I touched in my time on earth. Batik dots, which mark where defensive spines once stood, remind that we, like the sea urchin, have elements which reflexively ward off all that we perceive (or misperceive) as threatening. Without needless defense, our true self emerges.
"What Am I Afraid Of?" (14 x 14 x 1.75 in) (left panel)
I used to be afraid of using orange… until the day I decided (almost 30 years ago!) to face my fears of the color. Attempting to use pliers to pry loose the lid that would not budge (due to never having been opened), I accidentally gouged the edge of the metal tube, creating an explosion or orange all over my hands, clothing, and floor. This forced me to use it as the predominant color in the painting I was working on, not being one to waste. From then on, this experience has reminded that good things can come from facing what we have avoided. What growth have you experienced from the orange tubes of paint in your life?
"Migration, Interrupted", 2017, (12 x 12.25 x 5 inches)
(Thank you to Frankie York Thompson of New Editions Gallery, Lexyington, KY, for representing my work!)
A monarch on the grill of a car-- clearly struck during its journey-- brought awareness of how our lives can be altered… either in a single moment, or by long-held process/systems. Each day there is desperate need to create goodness and gratitude amid the chaos and suffering in our world. "Migration, Interrupted" evolved by merging photo with kozo, layering with fused wax, hand-carving and sculpting, coloring with pigment, and wiring onto depths of carved beeswax waiting like the midnight sky.
"Vulnerable", 2017, (12.25 x 12 x 4.25 inches)
(Thank you to Frankie York Thompson, of New Editions Gallery, Lexington, KY, for representing my work!)
A small Io Moth wing discovered on the road under a street lamp grew much larger than life, as it was printed on kozo paper, layered with encaustic medium, hand-carved over the surface, sculpted, and wired onto a layered beeswax cradled panel, where organic swirls depicting movement were carved. Painted with oils to accentuate the habitat of the moth, I was struck by the fact that this wing was all that remained by morning, reminded of our vulnerability, and of the natural cycle of life.
"Reveal", 2017, (12 x 12.25 x 4.5 inches)
(Thank you to Frankie York Thompson, of New Editions Gallery, Lexington, KY, for representing my work!).
A Blue Swallowtail feasting in our blackberry garden brought life to this sculpture. Printed on textile, layered with fused wax, hand-carved, sculpted into form, and colored with powdered pigment, it was wired onto a cradled panel layered with intricately carved organic shapes in beeswax and painted with oils, providing a resting place for this memorialized bit of nature's beauty. It illuminates the revelation of inner goodness that radiates out when provided with the sustenance we need.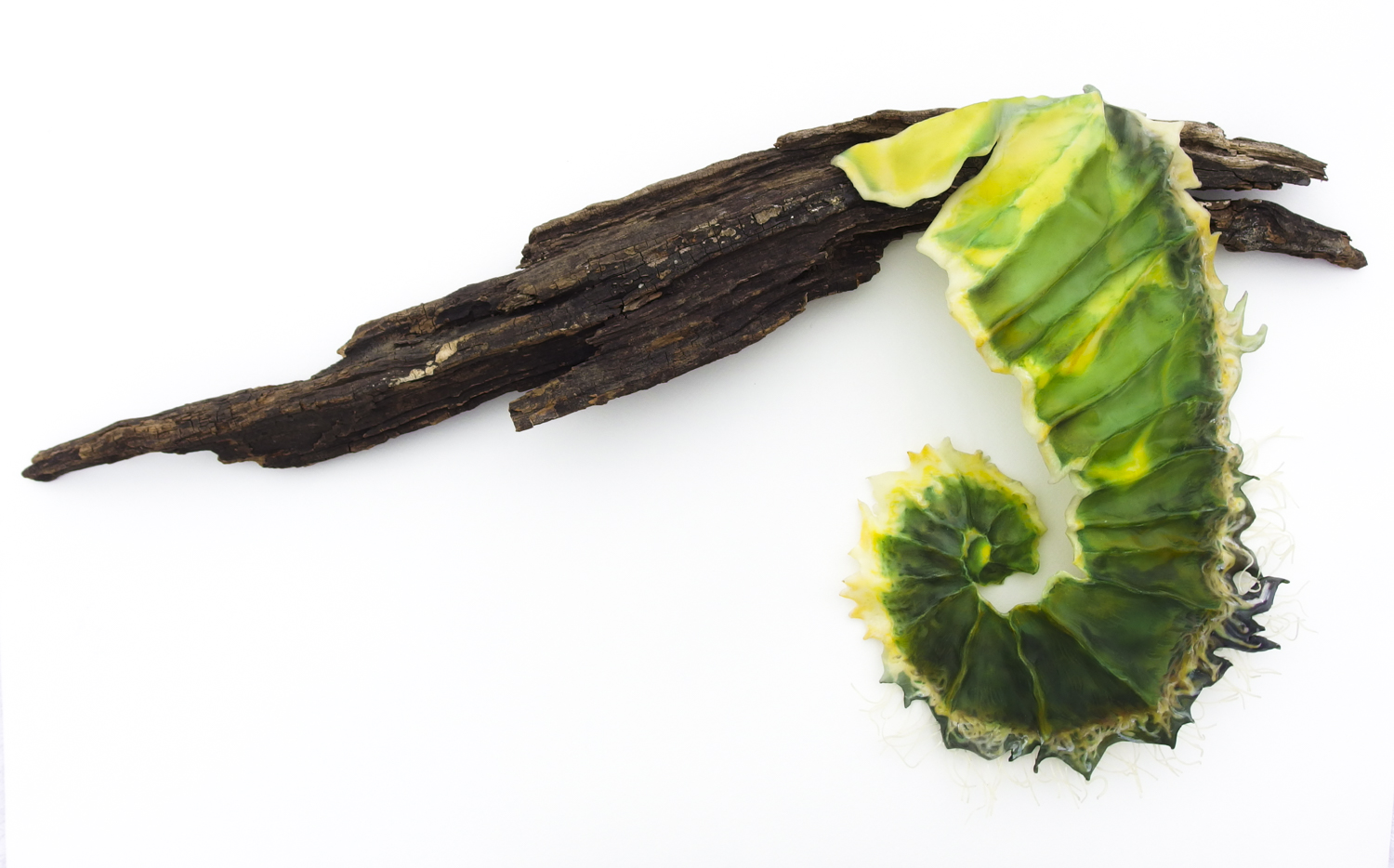 "Unfurling", 2016, (15 x 30 x 4 inches)
This sculpture reflects the early signs of spring, as seen in the unfurling of the tendrils on a young fern, found in a nature preserve near our home. Witnessing this quiet act of emergence reminded me of how naturally we come into being when surrounded by stillness, safety, and sunlight. Materials used in its creation include macro photograph, kozo paper, encaustic medium, powdered pigment, found wood, and linen thread
"Of the Sea", 2015
I am so honored for this piece to have gone to a couple whom I respect deeply, and who have supported my journey as an artist.
"Comfort", 2016
This sculpture now lives across the United States, in the home of an amazing artist and inspiration.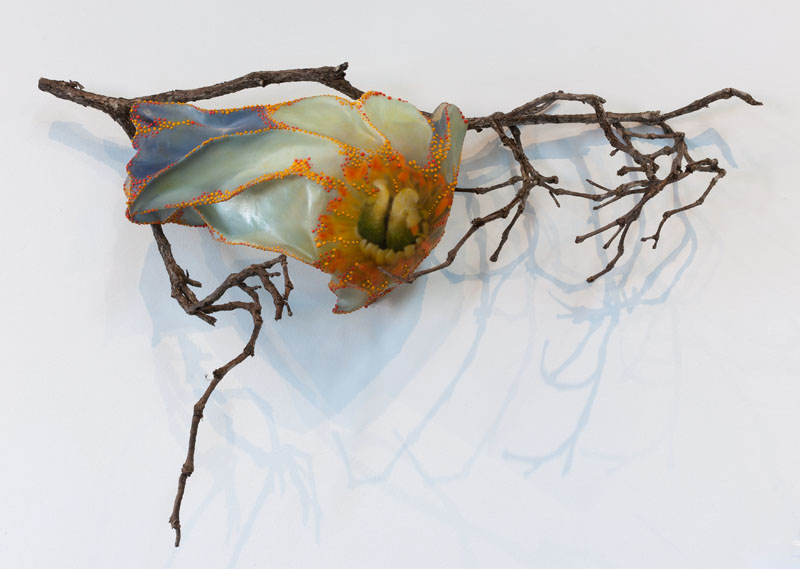 "Quiet Emergence"
This piece just sold at the live auction during the Berea Art Council's 2016 Stepping Out for Art. The original encaustic part of this sculpture was juried in to the "NOT big" Exhibit at the Mary Rezny Gallery in Lexington, KY, in August 2015. I chose to nestle to sculpture in branches to hold the peony and allow it to be hung on a wall.
"The Sacred in the Night", 2015, (14 x 25 x 12 inches)
I am so happy that this has transitioned out of the Kentucky Guild Gallery and into its new home!
"Metamorphosis" (12 x 18)
This piece was purchased by St. Joseph Hospital, Lexington, KY, as part of their Healing Arts Initiative, in which art purchased from local artists is selected for inclusion in the hospital environment. Bringing images that transmit beauty and calm into the space where patients, families and staff work together for healing, provides a sense of respite for weary minds and bodies, and hopefully helps restore a bit of energy needed to continue whatever is being faced. Having worked in medical social work for years, I can attest to the need for this healing energy, and am honored to be included in part of this journey.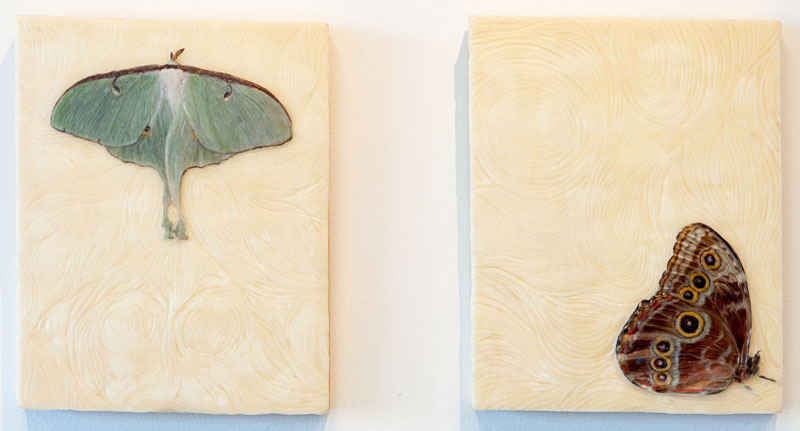 "Sacred" and "In the Stillness"
These pieces sold at the Berea Art Council Exhibit, "Original Art... Original Gift", and were made starting with macro photography of a Luna Moth and Common Blue Morpho Butterfly, printed on handmade Japanese kozo paper, fused with multiple layers of beeswax, hand-carved relief detail, and colored sfurther with powdered pigment. They are fused to the background, which has 1/4" thickness of beeswax medium, intricately carved with organic design that complements the sacred imagery. I am thrilled that these 2 pieces went to new homes!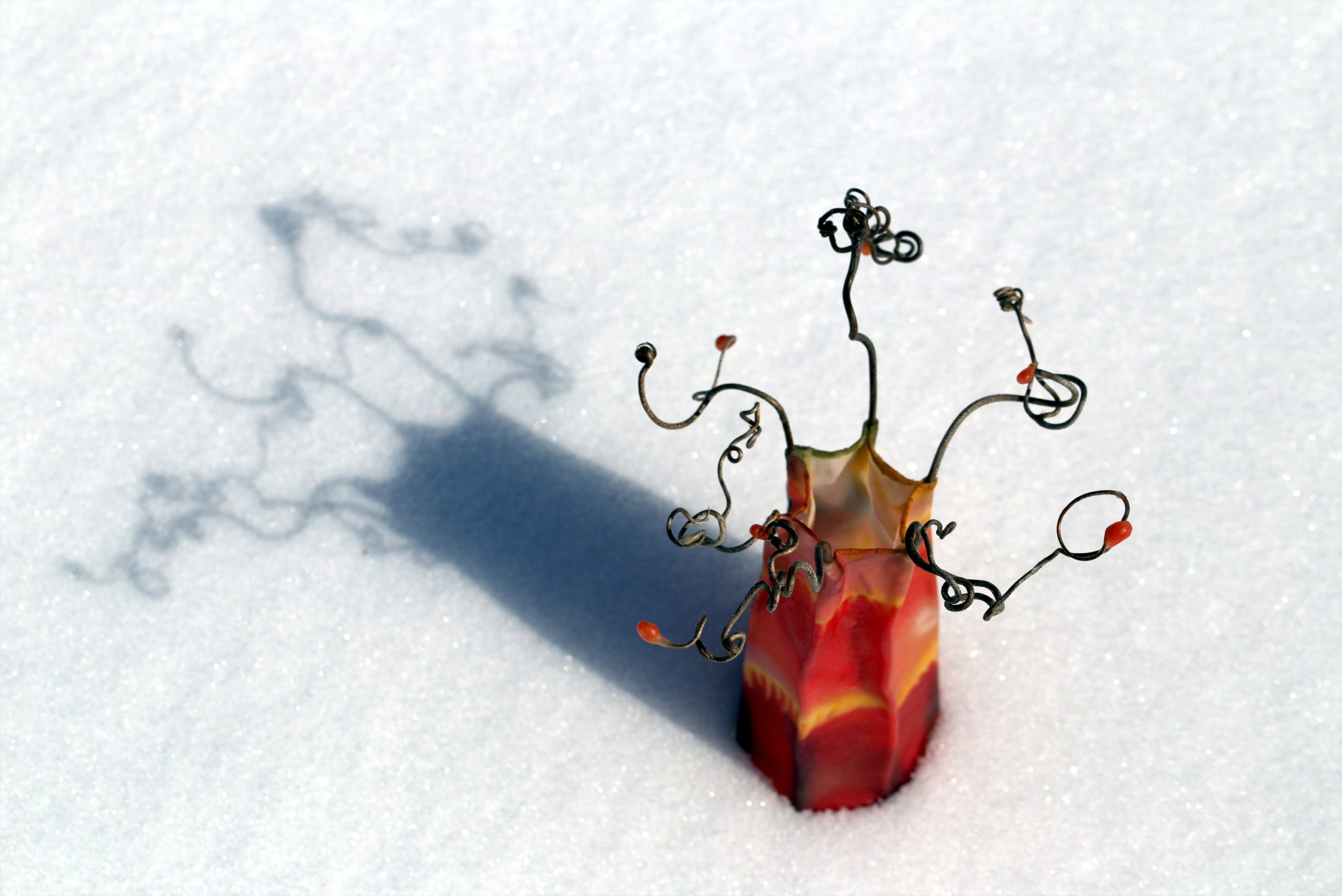 "Autumn on the Forest Floor"
encaustic sculpture, private collection
"Inner Radiance"
This encaustic sculpture was made from a macro photograph of a nautilus shell from a favorite nature preserve. I have always been struck by the beauty of the nautilus shape, and feel like it connects on a primal level for me, drawing me in. Through the creation of the piece, I reflected on how much connection with others is enabled when we let our innermost selves radiate outwardly.
This sculpture was juried into 5th Annual Encaustic/Wax Exhibit at the Encaustic Artists Institute, in Sante Fe, NM, in October 2015, and was purchased by the institute for inclusion in their permanent collection.
"Softness of Spring"
photography, private collection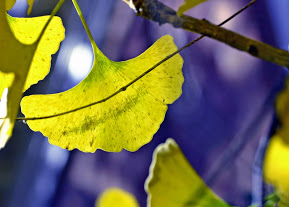 "Color of Light"
photography, St. Joseph Hospital, Berea, KY, Healing Arts Inititiave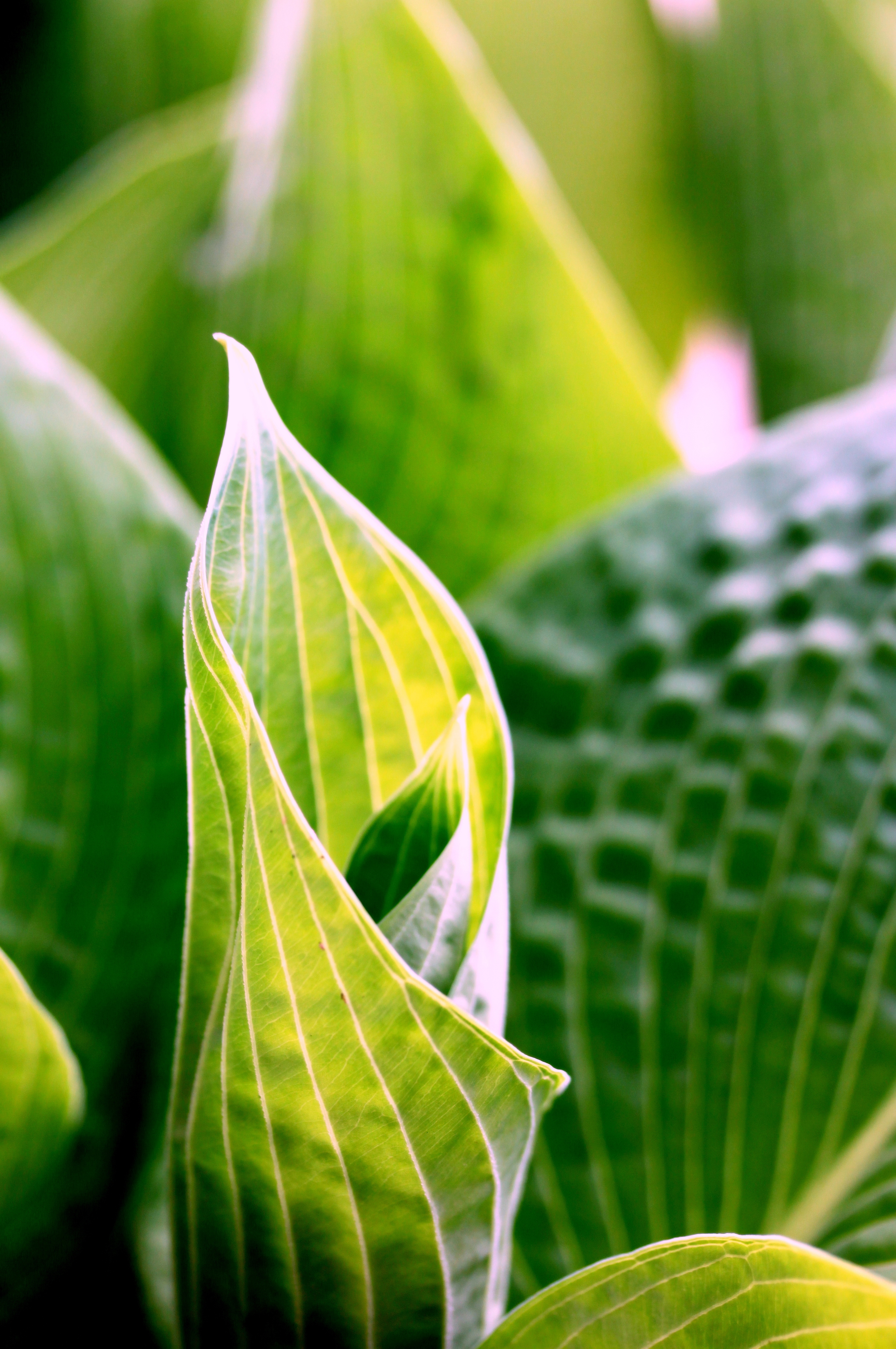 "Held"
photography, St. Joseph Hospital, Berea, KY, new mammography unit
"The Gathering"
photography, St. Joseph Hospital, Berea, KY, new mammography unit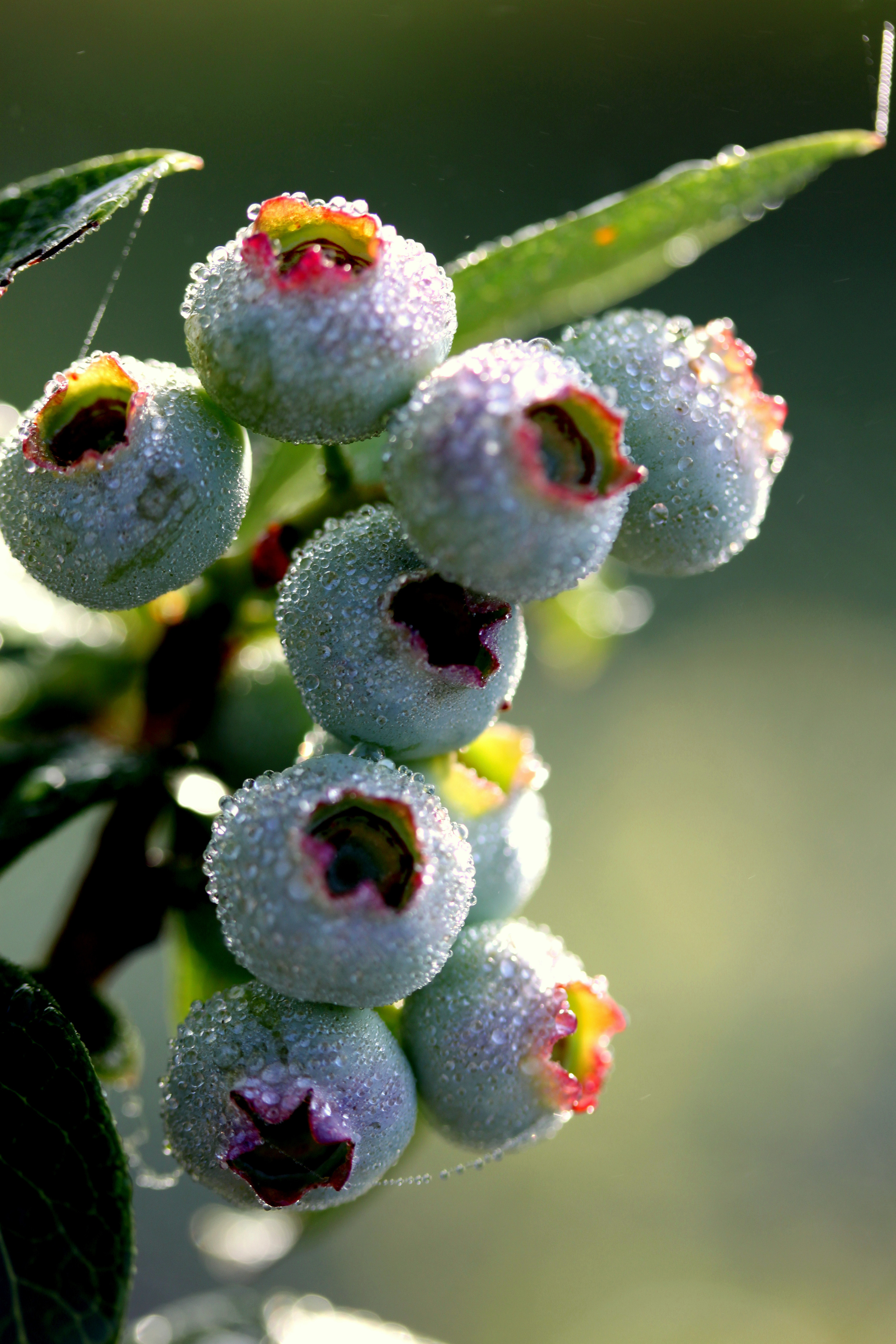 "Early Morning"
photography, St. Joseph Hospital, Berea, KY, new mammography unit
"Basking in the Warmth"
photography, St. Joseph Hospital, Berea, KY, Healing Arts Initiative
"Perserverance"
photography, St. Joseph Hospital, Berea, KY, new mammography unit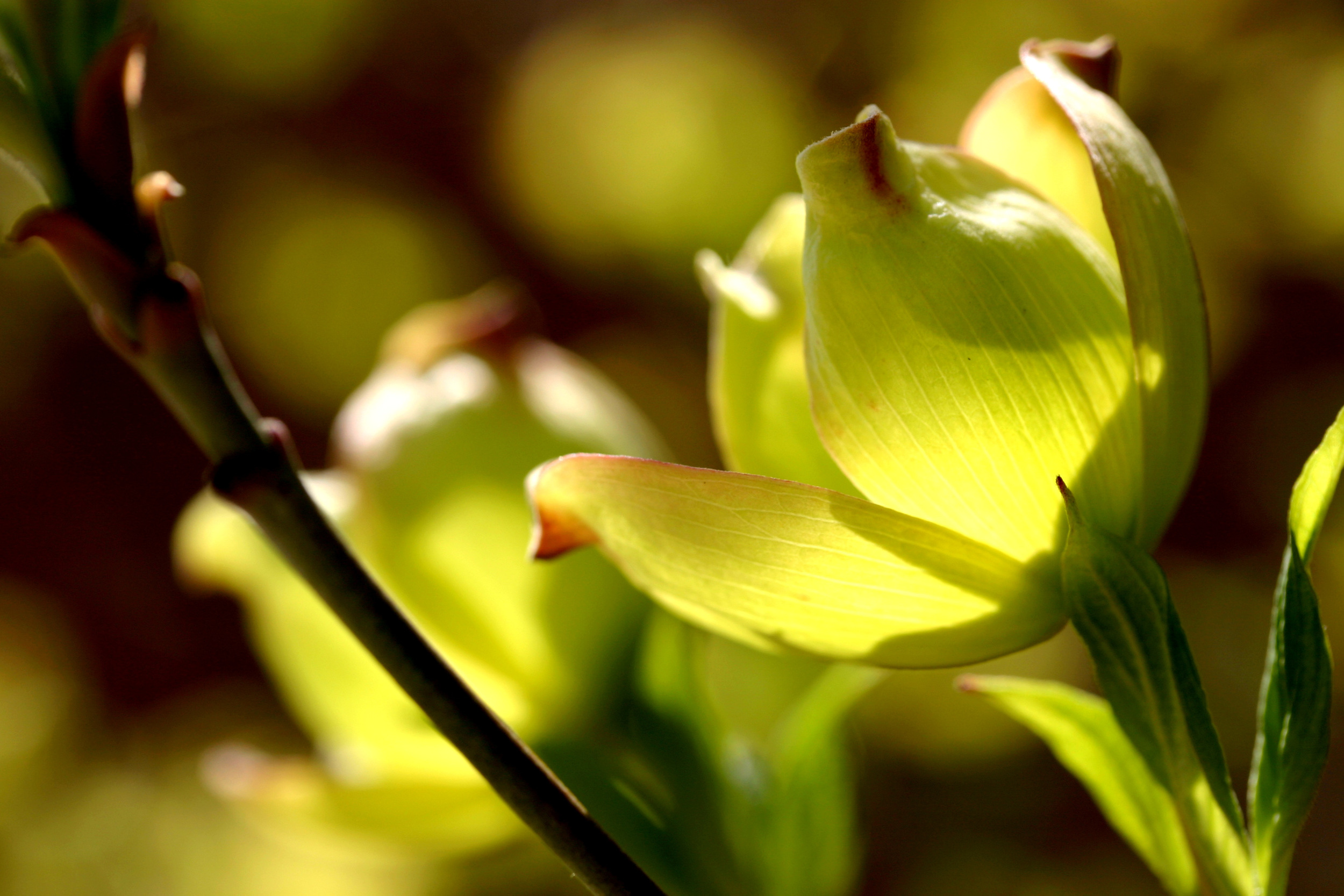 "Glow"
photography, St. Joseph Hospital, Berea, KY, new mammography unit
"Morning in the Garden"
photography, powdered pigment, St. Joseph Hospital East, Lexington, KY, Healing Arts Initiative
"Stillpoint"
St. Joseph Hospital, Berea, KY, Healing Arts Initiative
"Simple Offerings"
photography, private collection
"Stillpoint"
St. Joseph Hospital, Berea, KY, new mammography unit